Prices are packages can be found below for the various sessions I have to offer. You have the option to go for a package (these do work out better value) or go session fee only and then a la carte.
Session Fees For Sessions If Going For A La Carte 
Newborn Session – £75
Maternity Session – £30
Cakesmash – £50
Family Session – £30
My First Year – £100
Headshots – £30
These are session fee only and do not included any prints or products. You can then purchase prints, digitals or products from the a la carte prices below.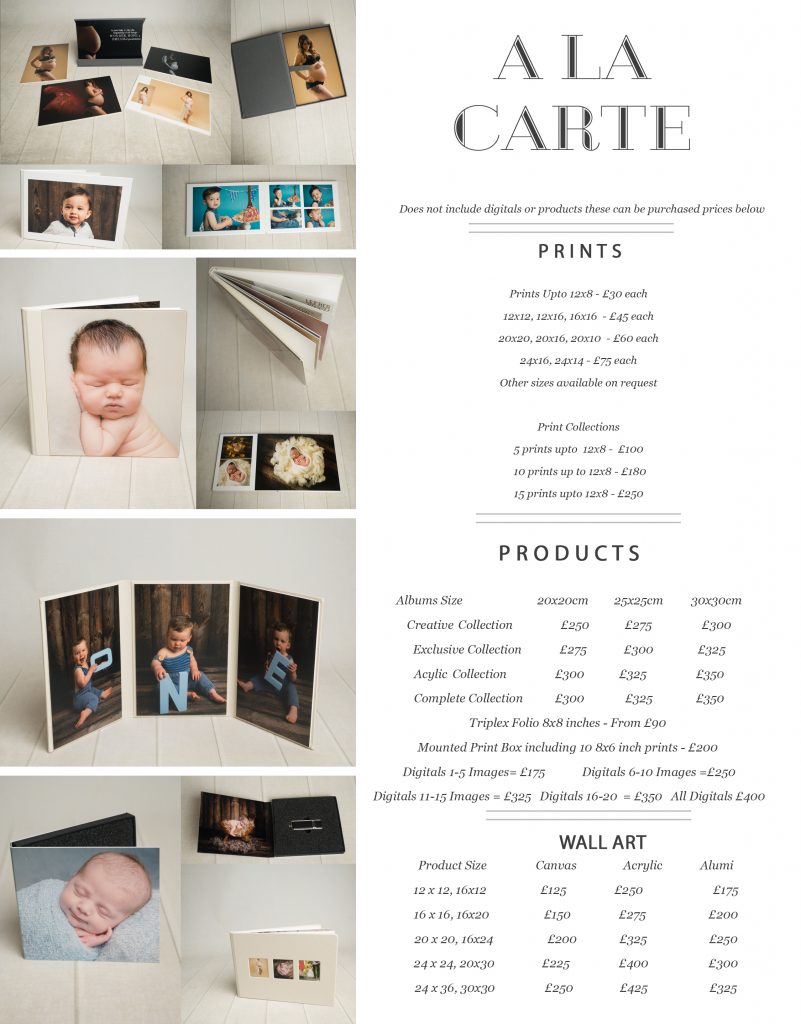 Terms & Conditions
Please Read, booking a session with Sarahndipity Photography states that you are aware of these T&C
1. Booking Fee is due to hold your booking and is NON-REFUNDABLE.
2. I will contact you when your order is ready.Thank you for your patience.Orders need to be picked up or can be delivered for a charge.
3. Please handle your prints with care. Any damage to a print that has left the studio, is the responsibility of the client and there will be a fee to replace it.
4. Cameras, cell phone cameras and camcorders are not permitted during any session, in studio or on location, If you do wish to take a picture of me working please ask.
5. Please DO NOT COPY or save photos from my Facebook page, website, or any other form of advertisement. Sneak Peaks – Please keep the logo intact & remember, No alteration of photos is allowed (so no personal edits to these with filters etc) .
6. Sarahndipity Photography reserves the right to use images for display, publication or other purposes without further permisson. If you do not wish the images to be used please inform me at the session.
7. For all orders, payment is due in full at time of order. All portraits, books, albums, frames, etc. are non refundable. Orders can not be canceled due to the custom nature of the products.
7. If you or your children are sick, please give me 24 hours notice. I know that emergencies occur. However, if there is no phone call or you are a no show or cancel within a hour before, there will be new session fee charged.
8. All portrait orders are final and can not be changed or refunded for any reason.
9. If receiving digital images with your package once you receive the usb, no refund can be issued due to the nature of the product.
10. Online galleries are online for 1 week only, orders must be placed in this time, if you require an extension this is a £10 admin charge per week to have it put back online.
11. Newborn sessions can take place at your home mileage/home visit charge will apply will vary depending on your location.
12.Session fee only sessions – Orders must be done within 3 months of session date or all images will be deleted.
13. By placing an order/session with Sarahndipity Photography, you agree to the above.
Sarahndipity Photography is a member of the SWPP (society of wedding and portrait photographers and has received her Licentiate qualification, and is also a Pro memeber of British Association of Newborn Photographers.Being a member of these organisation helps you know that your photographer is insured and a professional).
All images captured through my studio or on location are copyrighted by photographer. It is illegal to scan, copy or reproduce in any way or any manner of all images, unless you have received written permission from Sarahndipity Photography. This includes copying from the blog, Facebook, or any other form. I will be happy to provide you with a free facebook image sneak peak for you to use on your page after your session, but please do not copy them from my page or website. Web sized images that I give to you are not to be altered in any way, shape, or form. There are strict restrictions that apply. Please inquire if in doubt.
I thank you for respecting my work. As an artist, I would like to have complete control over the final output of my images to ensure proper quality control. When images are scanned (this is a breach of copyright) and poorly represented, it not only affects my reputation, but does not ensure that the image is represented in the way it was intended.
Raw Images are Never Given or sold. If purchasing digital images, a full print release will be given. My guarantee and/or warranty does not cover any images printed at any lab, including suggested labs. Guarantee is only given if prints are purchased through the studio via our professional labs.
       Thank you and I look forward with working with you to create
precious memories of your family.