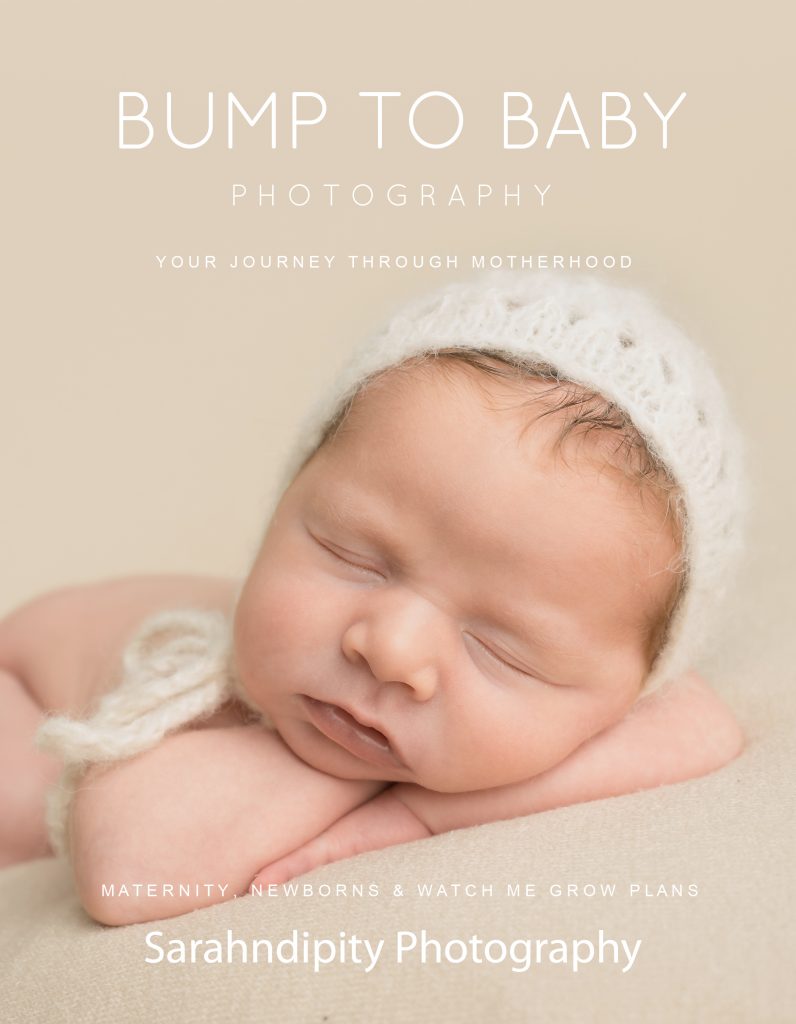 Hello & Welcome
Congratulations! Having a baby is a very exciting time in your life! It does not matter if this baby is your first, second or even your fifth, it is still a very exciting time for your family. There is so much time that passes between purchasing maternity clothes to picking out your baby's first birthday cake. This time goes by very fast and no one wants to forget about it. You will want to remember every moment of the first year of your baby's life. This is where I come into the picture. I would love to help you document and remember those special milestones. This can be done from the time of maternity to when your baby turns one-year-old. My job as a photographer is to capture all of these moments and turn the photos into something that you will treasure forever. I understand that when photographing a baby there is a large amount of planning as well as a very large amount of patience that goes into that time. You should be assured that I am good at both of these.

MATERNITY SESSIONS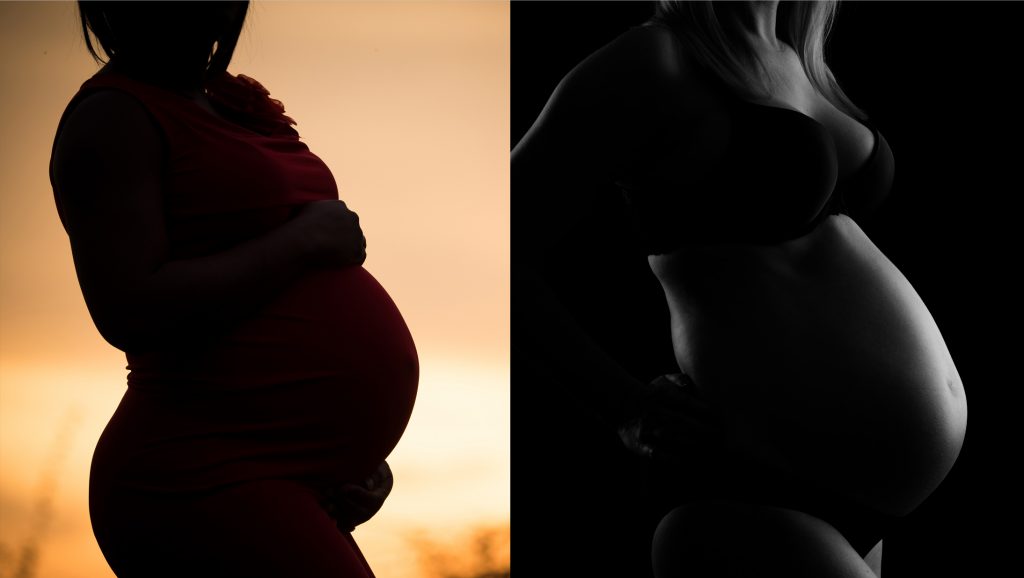 When a woman is going through a pregnancy she will soon learn that it is a fast time of development. Your body is growing a baby and it is wonderful but at the same time it is not always the most comfortable thing. You will experience cramps, bloating, swelling as well as many other things and you may not find yourself feeling great and that is okay. As a photographer it is my number one priority to make you look and feel like a superstar even if it is only for an hour or so. Once the photo session is complete you can get back into your comfy clothes and eat whatever you want for the rest of the day. This kind of maternity session is designed to accomplish one thing. This is to help you celebrate, document and remember the life that you are growing inside of you. It also happens to be one of my favorite kinds of sessions as I get to meet you before your baby arrives. A maternity session can take place anywhere you want it to. It can be in my studio or offsite at a location that we select. Examples of offsite locations are a beach, a field right before sunset, a park, or a garden or wooded area. Photographs such as these will help your children to know that you are proud to be their mother and will show them how happy you were to have them inside of you.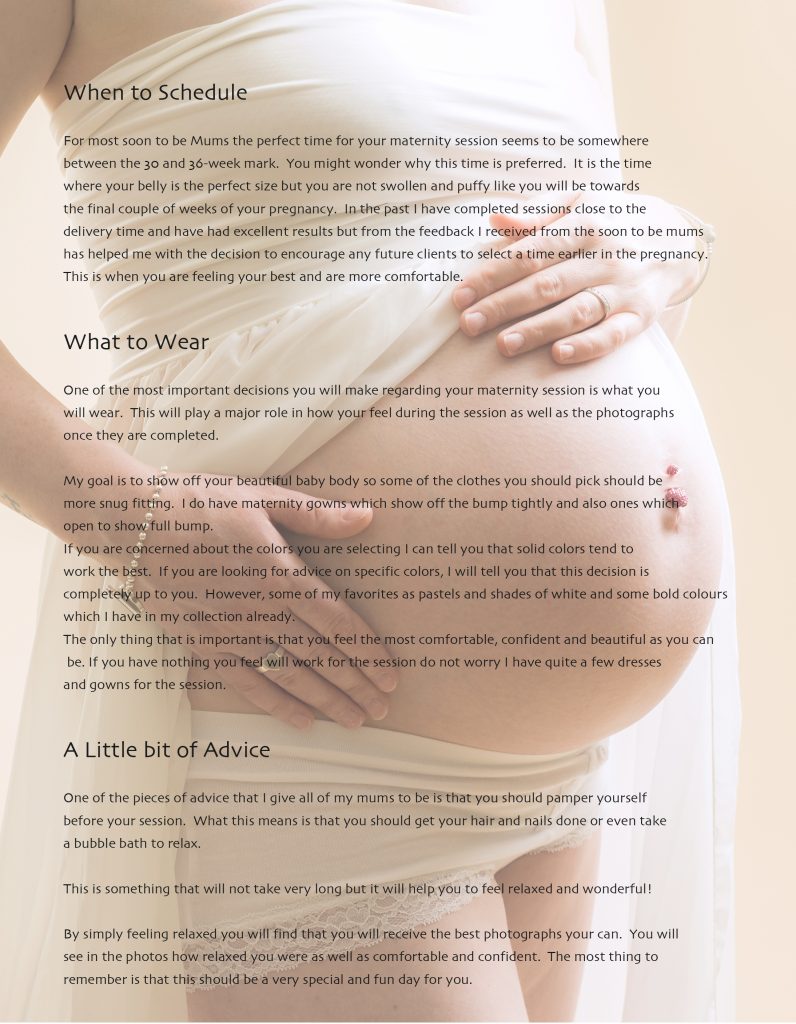 NEWBORN SESSIONS
These are definitely one of my favorites. I live for sweet little newborns and taking their photos is something that truly makes my day. I can absolutely assure you that I'll go out of my way to ensure that your sweet bundle of joy is warm, comfy and most importantly safe throughout the session.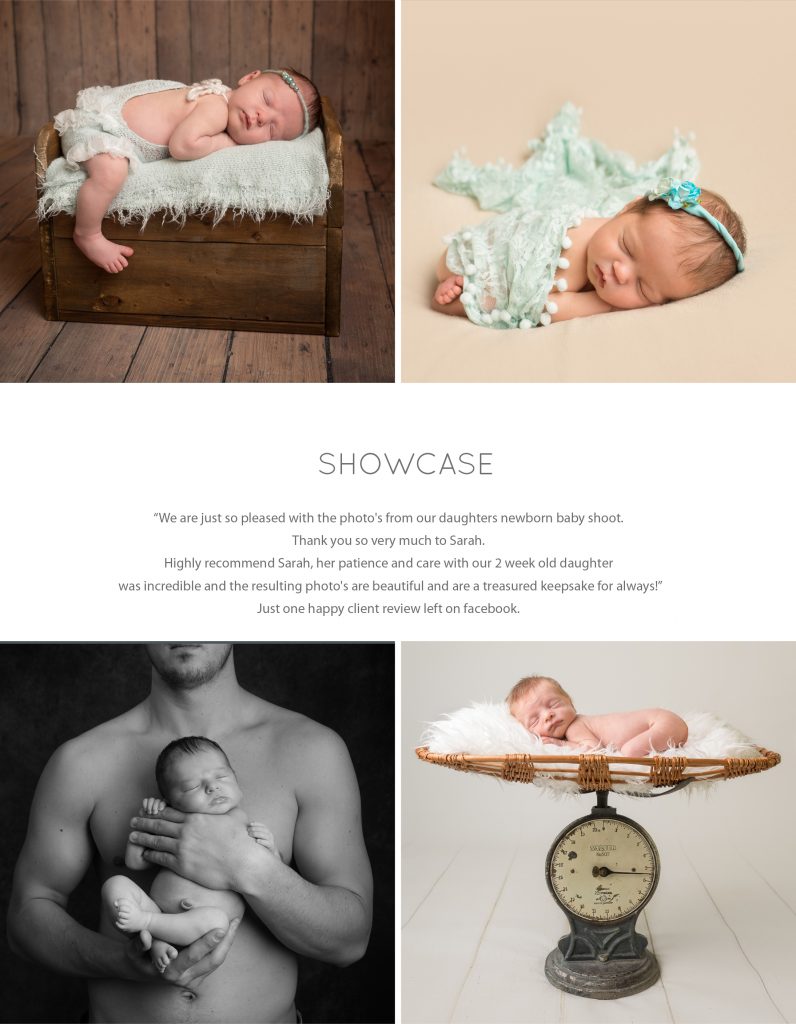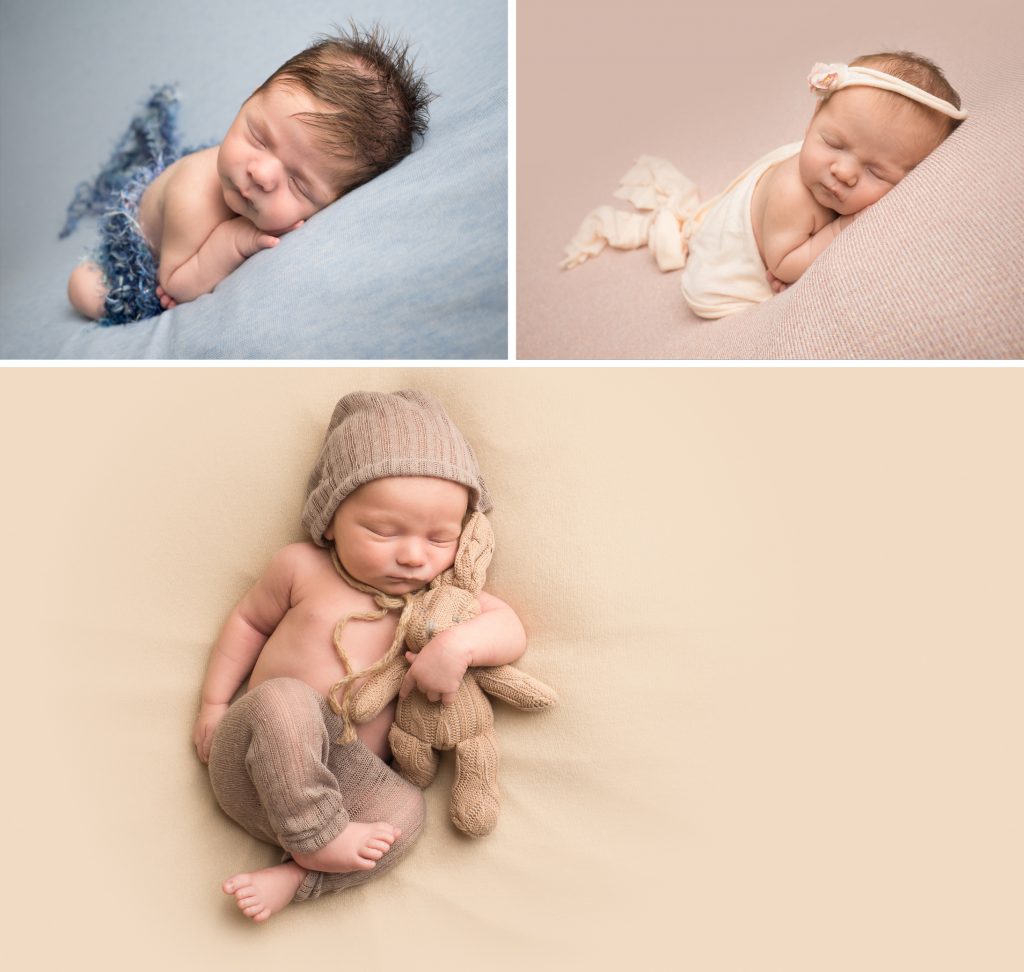 During Your Session
 The first thing I'll do when I arrive at your home is move in with all my equipment and props, you will need to have enough space for me to set up.If you are having me in a room with a carpet please let me know before I arrive as I will need to be a hard bottom floor to work on so backdrops don't crease. I have two types of backdrop systems which I can bring one which I will need a minimum of 2metre x 1.5 metres or one which fits into smaller homes please let me know how much space you have when booking.
Because your baby will be naked for a long period of time during the session you should be sure to turn on the heating so that the house can get warm.
I will bring a beanbag with me to help pose the baby during many of the photographs. I will also have several backdrop blankets, hats, bows, and many other props that the baby can be posed with.
I usually do props and siblings first, family images so that once these are done your other children can relax and play. We then do the beanbag poses. But it does also depend on what your wanting from the session and package chosen.
After Your Session
Once the session's over I'll go through all of the photos.  I will then pick what I think are the best ones and professionally edit each one.  The number of photos available will depend on how the session went.  Typically, this number is between 30 and 70 images.
Once edited I'll feature a few on my Facebook page as a sneak peek. Depending on the package chosen and paid for at the session it will take  3-6 weeks to edit the gallery, you will either receive your usb in the post if pre paid or you will receive your private gallery for viewing and ordering from, this is to allow time to edit and also for the usb to arrive as these cases are personalised to your baby.
Remember your private gallery is only online for 1 week only, orders must be in before the otherwise a weekly charge may be applied.
With Digital images You will also receive a printing release.  This will allow you to get whatever prints you wish to have made at a photo lab of your choice.  Do not lose this release.  You will need it to get the images printed.  If you wish to have products and prints done by me this is also a service that I offer.  You can choose the products and sizes you would like to have and they will be printed at a high quality professional lab. I can't be held responsible for poor printing quality from machines or high street labs only from my professional chosen print labs are quality assured. Also please make sure you back up your usb digitals as I do not store these forever make sure you make back ups.
CHECKLIST FOR PARENTS
If you have props that you wish to have in the photos, please have them ready before I arrive.
If at your home, please be sure the rooms are warm and comfortable for the baby.
The room where the baby will be photographed should be clean, clutter free, and tidy. Because the room is going to be warm you should wear light weight and comfortable clothing.
If you are going to be in some of the photos we can do these first so that you are not wrinkled and sweaty in the photos. Have your nails trimmed and clean before I arrive. This is because your hands may be in some of the photos.
No phones are allowed during the photo shoot. This causes too many distractions. You should have at least one other person there with you. He or she will be there to help.
The sessions will make everyone thirsty. Please have water on hand.
You should have the baby only in a diaper. No clothing or socks. The diaper should also be unfastened so that it is easy to remove. The baby will be cold so warming him or her in a blanket is okay. This will also help to avoid creases or red marks on the baby's body.
A half an hour before the session is scheduled to start you should feed and burp the baby. This will help the session to go smoothly.
FREQUENTLY ASKED QUESTIONS
What should we need with us to our newborn session?
Bring tons of of nappys and also baby formula for feeding. However, if you are nursing the baby you should come prepared to nurse several times while you are there. The room will be very warm so you should dress appropriately.
Should we bring props with us?
I do have so many props that include hats, headbands, buckets and just about anything else you can imagine. Please see my guide for the choices. If you have something of your own that you wish to bring with you, please feel free to do so but please let me know before the session. Ie if you have someone in the forces (hats/boots etc work well) or if you have a job you would like to show in the images please let me know before the session so I can prepare.
Can the photos include the baby and older siblings?
The answer to this question is YES! One of my favorite things to do is sibling shots. Even if the siblings are young it is still possible to get some awesome images. I have lots of tricks and different ways to make it happen but little ones are unpredictable and you never know how it'll go. A good suggestion is to have the siblings done at the start so that once they are done they can leave to play.
When do we pay you?
You will need to pay me in full on the day of your session for your choosen package. How do we pay you? I take cash, bank transfer or card payment. Either is fine by me so whatever is most convenient for you.
When the session is complete how long will it be before our images are ready?
Your images will be ready for delivery within a time period of around three weeks-six weeks.
Can I get actual prints from you?
Of course you can and it is something that I recommend. This is especially true if you are wanting large size prints. You will definitely notice a difference in quality between what you receive from me and what you will receive from a other stores. I can not be held responsible for poor printing from other printer. For best results please use professional labs.
Watch Me Grow – Bump To Baby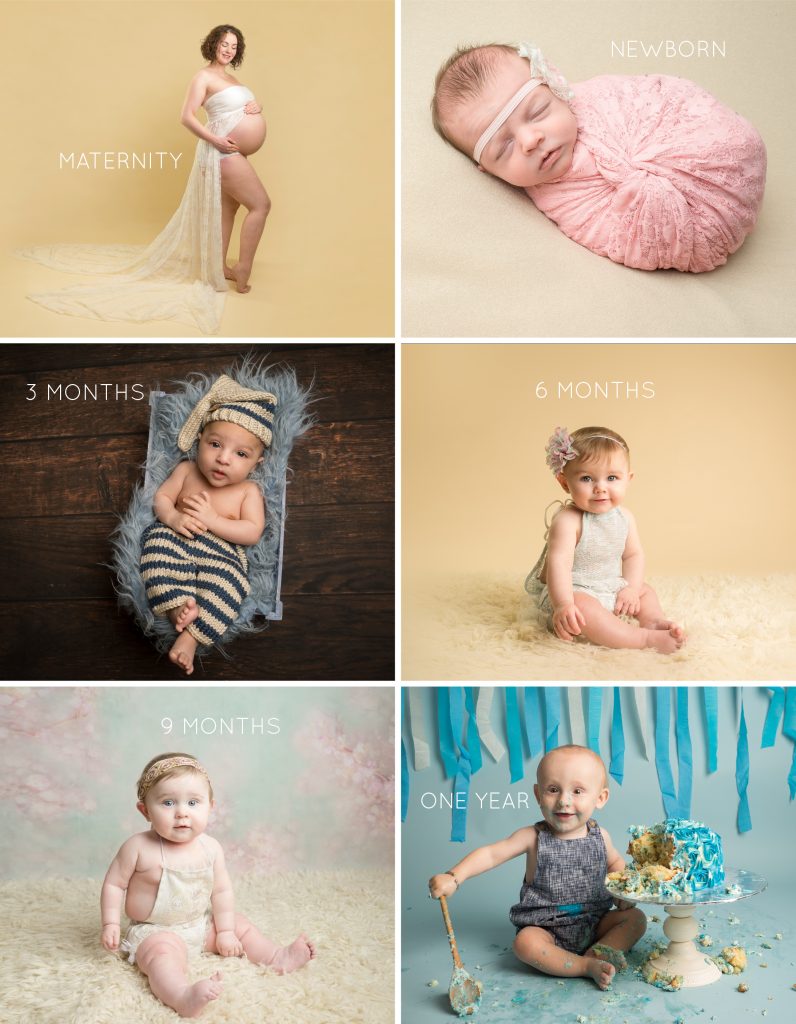 The watch me grow plan is something that I am very excited to offer. If you know that you will want to have the first year of the baby's life documented in pictures this is the perfect package for you. Many parents choose this plan before the baby is even born. When you make the decision to purchase the Watch me GROW plan you are actually purchasing a certain number of sessions as well as products and services from me. This is a plan that is scheduled at different stages during the first year of your baby's life. Examples of these stages are: a maternity session, newborn session, a sitting/crawling session and of course the one year cake smash session. If the parents prefer we can schedule the sessions on the baby's age instead of development stages. Examples of these are newborn, 3 months, 6 months, 9 months and one year! Of course if you want something completely custom I can accommodate that too. We do not care when you choose to have your baby's sessions. This is a decision that is made entirely by you. But it is important to mention that all Watch Me GROW! sessions must be completed by the baby's first birthday.
Please Check out my galleries and blog posts for more beautiful images. Prices and packages can be
found here for sessions.   
If you would like to see my full prop range these can be found here